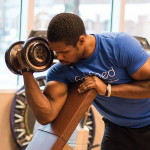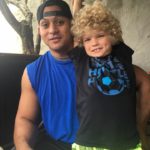 We were having breakfast on Friday with all of the Bdefined trainers. As we ate our omelets and some (Ravi and Kenny) enjoyed additional waffles and pancakes, Terrence smiled and simply drank his glass of water.  He was staying true to his diet in preparation for his next fitness competition. A couple of weeks ago, Ravi came over to help us move some furniture and I witnessed him essentially throw a couch over his head and go up the stairs with it. I was simply available to balance the opposite end. This was after a weekend of him competing and judging a regional fitness competition. These two guys are lovable beasts that we get to see daily and they inspire us with full commitment to their own fitness and goals.
Google "setting fitness goals" and you will get thousands of articles on how to do it and why. Clearly, it is critical for taking your health and fitness to the next level. After careers as Division I football players at William & Mary, Terrence and Ravi could have taken it easy but they chose to keep pushing themselves. I believe there is much to learn from these two, as it is easy to choose the less challenging path and consequentially not push to our potential.
Why do you compete in fitness competitions?
Ravi – I compete in Crossfit competitions because it allows me to test myself outside of day to day training. Getting into a competitive environment is not only exciting but it challenges me to push beyond my normal limits.
Terrence – Just to practice self discipline and stretch myself out of my comfort zone and I like to compete.
How do you train  for it? 
Ravi – I train once a day, 6 days a week, and have one rest day on Sunday.
Terrence –  I have been training muscle group specific, varying large groups each day 6 times a week. With 30-60 minutes of cardio included.
What is the hardest part about it?
Ravi – Training on days where the volume of work, volunteering, and studying are heavy. It's easy to want to skip a day of training because of being too tired, but the mental guilt of not training ends up being a motivating factor also.
Terrence – Hardest part about it is the different sort of training than I am used to. I am usually training in a more athletic and explosive manner. For me, the specific muscle group takes more focus and mental energy to make sure I am affecting the right muscles. Also, becoming comfortable with the posing aspect is a process. Diet for me is easy though, I have a plan and I stick to it!
How do you feel while training for it?
Ravi – some days I feel great, some days I feel terrible. It really depends on the day, how much rest I've had that week, and how healthy or poorly I've eaten that week.
Terrence – feel great! The eating has me full of energy and I supplement in other areas to keep energy levels high and the excitement of competing is at the forefront of the mind.
What are your future fitness goals?
Ravi – Just to become healthy, active, and mobile. I want to live life happily by using the gift of a healthy body each day.
Terrence – After this I believe I will try some things in more of a performance realm, so maybe a mud rave or a Crossfit competition.
Many of us in the Bdefined family completed a Rugged Maniac 5k in Petersburg back in October. Thanks to Heather Sacks for the inspiration for that one!. I have been in quite the comfort zone since then as far as fitness. It's been fairly inconsistent and directionless. Sorry Bridgit.
Ravi and Terrence demonstrate the power and growth realized from commitment, discipline and stepping out of their comfort zone. Thanks Beasts. Time for me to find the goal that will tap into my own inner beast.
Ralph.